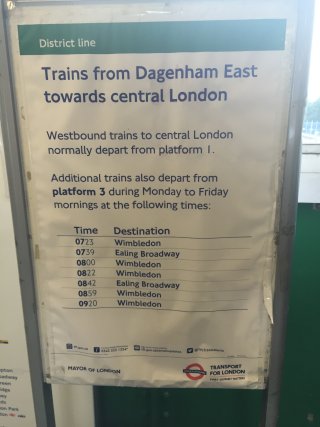 We found ourselves out the eastern of the District line yesterday for a non-Station Master task, but whilst we're passing through stations we always find ourselves continually on the look out for anything that's new or changed, or that perhaps we didn't spot the first time round!
We found this poster therefore, in the ticket hall at Dagenham East – where our travel tip recommends that some trains can start here and leave from Platform 3, and not Platform 1 which is where most westbound services start – except now there's a poster up giving the exact times which is dead handy to know.
0723, 0729, 0800, 0822, 0842, 0859 and 0920 are the times of scheduled services that start here and head west into central London – which is also handy to know if you're a commuter from Dagenham Heathway, Becontree or Barking heading into town because by getting the train that starts from here it'll be quieter, and much more likely that you'll get a seat … always good to know.