User Guide
There are a number of settings on the App that you can change within 'Settings' on your device. Scroll down to Station Master, and see the following options.
Appearance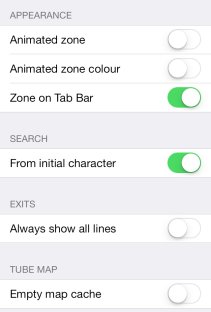 Animated Zone - By default ON, turns on or off the animated zone number that flashes up when you select a station.
Animated Zone Colour - Colours the zone animation - and again can be turned on or off.
Zone on Tab Bar - You can have the zone that the station is in displayed as a number as a button on the tab bar.
Search
From Initial Character - The default is on meaning that if you (for example) type 'WIM' you will only see Wimbledon, and Wimbledon Park stations.
But with this set off, will show all station with the characters WIM in, so you'd see South Wimbledon too.
Exits
Always show all lines is by default turned OFF. When you look at the exit information for a station with multiple lines (e.g. Oxford Circus, that you selected via the Central Line) it will only show the exit information for Central Lines trains. However, with this setting turned ON it would show exit information for all lines at that station (e.g. Victoria, Bakerloo and Central Line trains).
Tube Map
Map Cached is OFF by default. If you have downloaded the Tube Map from the TfL website in the App, it is stored on your device in order that you can access it when connectivity is not available.
Should you wish to re-download the map for any reason, e.g. you want the latest version, change this setting to "On" and the downloaded map will be deleted (the setting will automatically return to "Off").
Note: Although the App stores the map on your device, it is not backed up to iCloud.