With the new kink in the Central line on the May 2015 TfL Map causing the most raised eyebrows, we couldn't find anywhere online where Crossrail was also shown to represent why they've done it to enable them to fit it in in a few years time.
So here in (what we think will be the correct) Crossrail purple is how it will fit into the map, helped by the new Central line kink – it means it's a 'standard' 45 degree angle in-between Bond Street and Paddington.
We've also continued to study the new May 2015 TfL Map (formerly the Tube Map) and noticed a couple of other small – but interesting things.
The horrid triangle of blobs that used to be the connector blobs at West Ham has been replaced – still with three blobs – but this time in a straight line, no longer forming a triangular shape, and we think it looks better. Up above that though, look how the Jubilee Line now bends to the right (it used to be straight – in fact it used to bend to the left many years ago) but to incorporate the new MTR TfL Rail / Crossrail line it now bends to the right.  The branch to Stratford International is now no longer a straight line.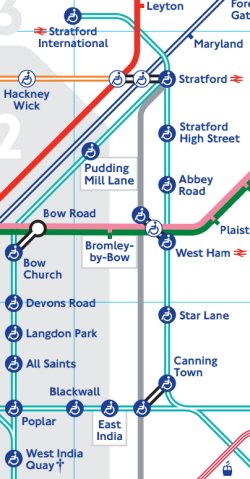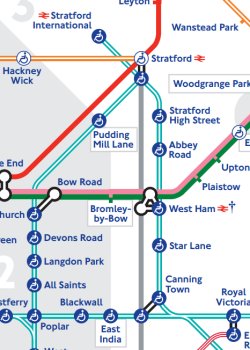 But back to the kink .. the Central line link, and how this has affected the central area. You can see here in the comparison that the depth of the Circle line has now increased to allow the kink and future Crossrail to be added in and look what it's done to the District line at the point of the Aldgate triangle – it used to elegantly curve away at the junction before, now it hugs the Circle line round the bend for a bit, before peeling away to go up to Aldgate East, and we think this looks messier.