Your Apple Watch has finally arrived!  Oh, you're still waiting too?
But when it does finally land on your wrist, you'll be wanting something to tell you the state of the Tube at a glance won't you!
Well, we have just the thing!  Visual Tube Status for Apple Watch!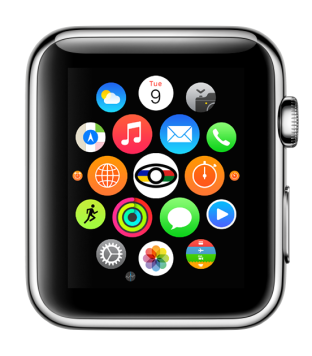 The Apple Watch is all about (we believe) short (~5 second) interactions, called "Glances".  Swipe up from the watch face and you can see a single screen of information at a glance.  We spent a long time thinking about how to quickly convey which lines were having problems and think we found the answer, with this target-cum-roundel-style graphic…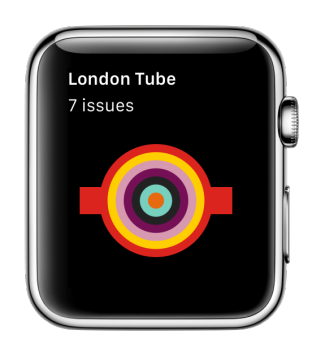 The Tube was obviously having a very bad day when we took this screenshot, but it shows the colours of the lines that were having problems.  In fact it was early on Sunday 19th April 2015 – the Central, Northern and Overground lines were on weekend closure for maintenance, the Circle, Hammersmith & City and Metropolitan lines were having Severe Delays and the Waterloo & City line was closed as usual.
But whatever's going on, Visual Tube generates the image to show you the state of all the lines at the time you glance at it, so you'll quickly know if there's something you need to take into account on your commute.
Want to know more details?  Tap the Glance on Apple Watch, and you'll be taken to the lines view where you can see a more detailed list of the lines with the problem lines at the top.  Tap a line that's not showing "Good Service" to see all the details.  This was Tuesday morning when the Central line had a derailment of an engineers' train. (The Glance showed just a red symbol).
And on the (rare in the last couple of weeks) occasions when there is a "Good Service" you'll be able to see the green tick.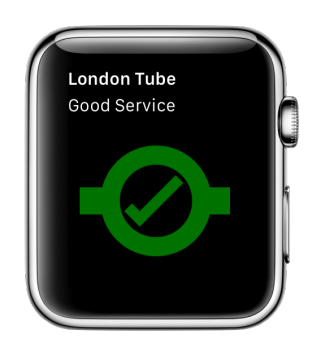 Head on over to the Watch App Store in the Apple Watch App on your iPhone to get hold of Visual Tube for Apple Watch (tap the search icon and search for "Visual Tube").
(Visual Tube works on the iPhone and iPad too, but today's all about the Apple Watch so we'll tell you about those features another time!)