TfL produced a draft copy this week of what they think the tube map will look like in 2021.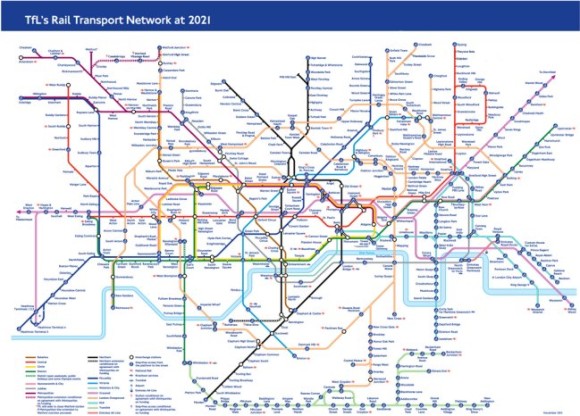 Obvious things to spot on there is Crossrail now spanning west to east across the map, the new Watford extension (with Cassiobridge and Watford Vicarage Road stations on the Metropolitan Line), the possible Northern Line extension (with Nine Elms and Battersea stations), but what's new to appear on a proposed TfL map for the first time are the services out of Liverpool Street to Enfield Town, Cheshunt and Chingford.
It adds more spaghetti to the orange mess that is the Overground already the top right of the corner of the map is now looking most cluttered.
King-of-the-clutter though is still (of course) the patronising 'blue blob' of accessibility, and with the new Overground and Tramlink on the map (although, Tramlink always appears on proposed tube maps, but never makes the final editions) there are more blue blobs than ever – so much so we counted them up.
There are 222 stations that are 'blue blobbed' on this version of the map now, and just one more – 223 that do not!  So it's almost at a 50:50 split.
So let's apply some logic to this.  If 99% of stations on the map were step-free accessible you would obviously just mark (with a new symbol of some sorts?) the minority of stations which were NOT step free.   So – given that over time, more stations are going to become step free, at what point will TfL sensibly drop the blue-blob, and just highlight non-step free stations instead?